carbon project development & trade
Wondering how to navigate the complex carbon market? Our expert team, with over 14 years of experience and 300+ projects under our belt, is here to guide you. We specialize in carbon project development and trading of carbon credits, helping businesses make their mark in the voluntary carbon market.

Carbon offset projects are initiatives designed to reduce greenhouse gas emissions. These projects can take various forms, such as reforestation efforts, renewable energy installations, or energy efficiency improvements. The goal is to counterbalance or "offset" the emissions produced elsewhere, like those from a company's operations. Developing a carbon project involves several key steps, which can be carried out easily with the help of an expert with extensive knowledge.

project design

validation and verification

implementation and monitoring

carbon credit generation
Project Design: Once we've identified an eligible project, we design it in detail. This includes outlining the specific actions to be taken, the timeline, and the expected outcomes. A significant part of the project design is the preparation of the reports and calculation sheets to be uploaded to the relevant GHG offset program. These documents are necessary for listing the project under GHG schemes and provide a detailed account of the project's potential to generate carbon credits and its sustainability impacts."
Validation and Verification: The project then needs to be validated by an independent third party to ensure it meets certain standards, such as the Gold Standard for Global Goals (GS4GG), Verified Carbon Standard (VCS), Global Carbon Council (GCC), CERCARBONO or Biocarbon. This process validates that the project will indeed reduce emissions as planned.
Implementation and Monitoring: After validation, the project is implemented. This is valid for projects with regular timelines. However, sometimes GHG programs, such as the International Carbon Registry (ICR) allows retroactive projects to be validated as well. For every type of project, validation is followed by monitoring to ensure the project's contribution to sustainable development goals (SDGs) and reduce emissions in comparison to their baseline.
Carbon Credit Generation: Once the project has been verified to have reduced emissions, it generates carbon credits. Each credit represents a reduction of one metric ton of carbon dioxide equivalent (CO2e) of emissions. These credits can be sold or traded on the carbon market, providing an income stream for projects in need of carbon revenue to continue their operations.
Take a look at some of our projects

carbon footprint analysis
Your business may be leaving a larger footprint on our planet than you realize. Scope 3 emissions, often overlooked, are a significant part of your company's carbon footprint. These include all indirect emissions that occur in the value chain, from the goods and services you purchase to the business trips you make. Calculating your carbon footprint, including detailed Scope 3 emissions, can help you identify areas for improvement, reduce your environmental impact, and save money in the long term.
Our specially designed carbon management software, Scoop, provides a detailed analysis of your greenhouse gas emissions originating from your operations and occurring throughout your supply chain, in compliance with many standards.
carbon footprint analysis
compliance to standards
compliance to CBAM
carbon footprint vertification
emission tracking along the supply chain
Carbon Footprint Analysis: Scoop provides a detailed analysis of greenhouse gas emissions originating from your operations. This helps you understand your company's environmental impact and identify areas where changes need to be made to reduce emissions.
Compliance with Standards: Scoop is designed in compliance with ISO 14064-1:2018 and the GHG Protocol. This guarantees that your carbon footprint calculation is compliant with these standards.
Compatibility with CBAM: Scoop is a tool designed to help businesses comply with the requirements related to the Carbon Border Adjustment Mechanism (CBAM). It is a requirement under the CBAM to produce reports containing detailed information about the direct and indirect CO2 emissions of imported products. Scoop simplifies this complex process and helps businesses overcome the challenges brought by the CBAM, reaching sustainable growth opportunities.
Carbon Footprint Verification: Scoop simplifies the carbon footprint calculation and verification process for businesses, suppliers, and verifiers. This way, your calculation, reporting, and verification processes are completed in very short times, without any difficulty.
Emission Tracking Along the Supply Chain: Scoop allows you to see your suppliers' emissions, making it a versatile tool for all stakeholders in your supply chain. Understanding your supply chain emissions is vital as it often constitutes a significant portion of your total carbon footprint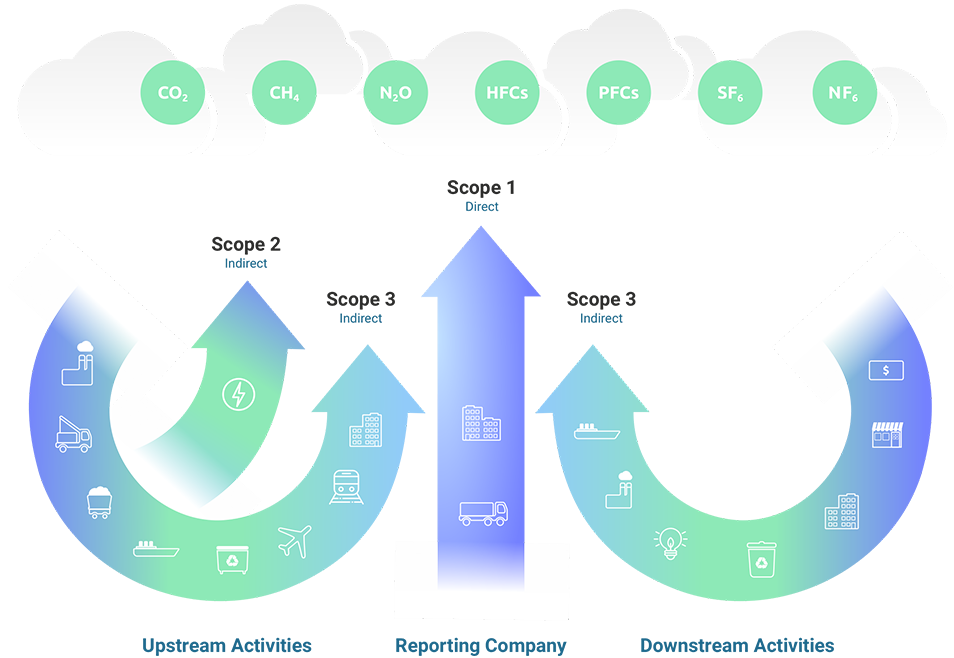 sustainability reporting
Are you ready to take your company's sustainability game to the next level? Discover how our expert consultancy can elevate your reporting and unlock new growth opportunities.
We have a wealth of experience in assisting businesses to meet compliance with a range of reporting standards and frameworks, including the Carbon Disclosure Project (CDP), Global Reporting Initiative (GRI), Sustainability Accounting Standards Board (SASB), Task Force on Climate-related Financial Disclosures (TCFD), Corporate Sustainability Reporting Directive (CSRD), and Turkey's Capital Markets Board's Sustainability Principles Compliance Framework.
We simplify the intricate process of crafting a comprehensive sustainability report, transforming it into a meaningful tool that communicates your commitment to sustainable practices and progress

identify topics

collect data

analyze and interpret

prepare the report

communicate the report
Identify Topics: We start by identifying the sustainability topics that are most relevant to the organization and its stakeholders. This could include environmental issues like carbon emissions, social issues like labor practices, or governance issues like corporate ethics.
Collect Data: Once we've identified the relevant topics, we collect data on these areas. This could involve internal data collection, such as energy use records or employee surveys, as well as external data collection, such as customer feedback or supply chain audits.
Analyze and Interpret Data: We then analyze this data to understand the organization's performance in these areas. This involves comparing performance against industry benchmarks, regulatory requirements, or the organization's own targets.
Prepare the Report: Based on this analysis, we prepare the sustainability report. This report provides a clear and comprehensive overview of the organization's sustainability performance, including both achievements and areas for improvement.
Communicate the Report: Finally, we communicate the report to the organization's stakeholders. This could involve publishing the report on the organization's website, presenting it at an annual general meeting, or discussing it in one-on-one meetings with key stakeholders. If we use standards such as Carbon Disclosure Project (CDP), we also submit the report to their portal and wait for their scoring.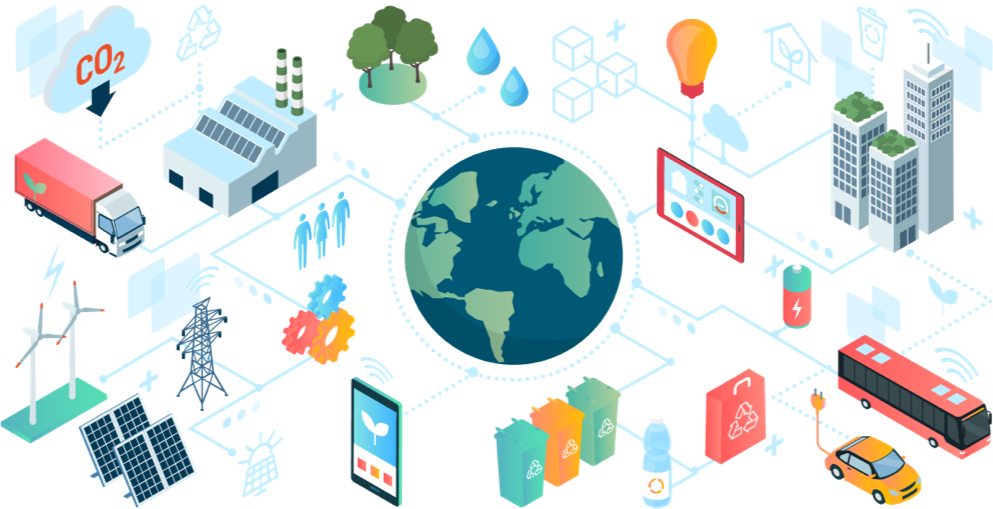 I-REC ve YEK-G certificates
Renewable energy certificates are certificates that certify that a producer has produced a certain amount of renewable energy for the consumer. This certificate indicates the difference between electricity produced from renewable energy sources and electricity produced from traditional energy sources.
Renewable energy certificates are a widely used tool worldwide and are encouraged by many countries. These certificates enable consumers to increase the use of renewable energy and energy producers to support renewable energy projects. In addition, renewable energy certificates help businesses reach their sustainability goals and allow different stakeholders in the energy supply chain to reduce their carbon footprints.
The renewable energy certificates we offer to our customers help businesses in different sectors fulfil their environmental responsibilities. Our certificates contribute to a sustainable future by reducing our customers' carbon footprints and preserving natural resources.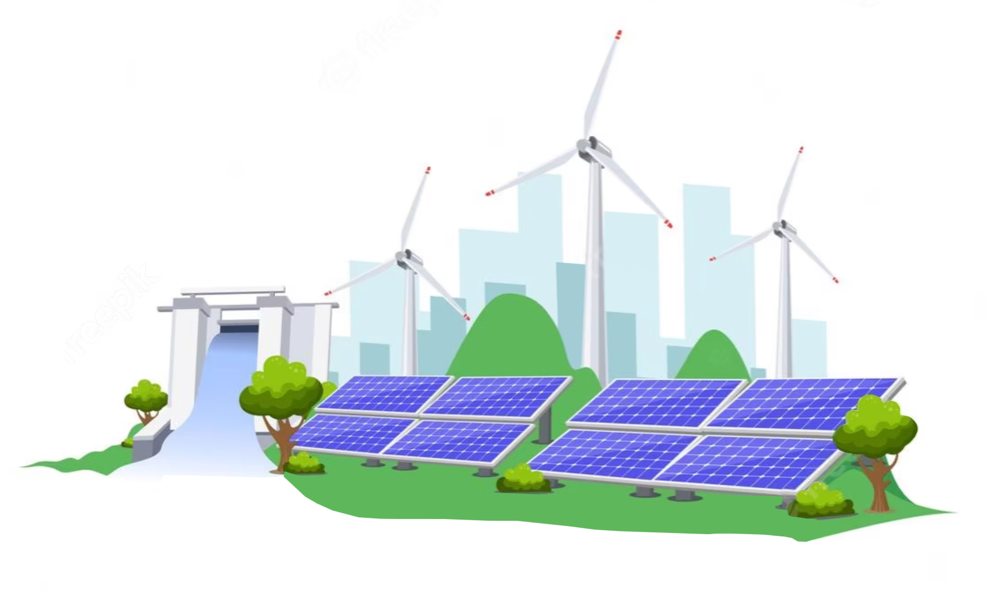 capacity building projects
Our expert team provides guidance to organizations in developing the skills, knowledge, and capabilities needed to address complex issues related to the climate crisis, Emission Trading Systems (ETS), the European Green Deal, and the Carbon Border Adjustment Mechanism (CBAM).

ETS

The European Green Deal

CBAM
Emission Trading Systems (ETS): are policy tools aimed at reducing greenhouse gas emissions. ETS sets a specific greenhouse gas emission limit and imposes penalties on companies for emissions exceeding this limit. This system encourages companies to invest in cleaner technologies and increase energy efficiency.
The European Green Deal: encompasses a series of policies and regulations supporting the European Union's goal of becoming a climate-neutral continent by 2050. This deal aims to promote sustainability and environmentally friendly practices in sectors such as energy, transportation, industry, and agriculture.
The Carbon Border Adjustment Mechanism (CBAM): is a system proposed by the European Union. This mechanism aims to establish a "carbon equality" between goods imported from outside the EU and goods produced within the EU. CBAM stipulates that products imported from outside the EU must adhere to the same environmental standards as similar products produced within the EU. This encourages countries outside the EU to use more sustainable and environmentally friendly production methods to export their products to the EU.
- We offer various capacity-building services, not only limited to aforementioned areas, including:
- Training programs on climate change mitigation and adaptation strategies,
- Workshops on the implementation of emission trading systems and carbon pricing mechanisms,
- Seminars on CBAM and its potential impact on the industry, and
- Technical assistance for businesses to comply with ETS, the Green Deal, and CBAM.